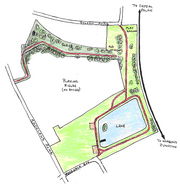 South Norwood Lake was originally formed in the early 1800s as a reservoir for the Croydon Canal. Before then, part of the current site was owned by the Archbishop of Canterbury and the rest formed part of Norwood Common. The canal closed in 1836, making way for the new railway, which opened in 1839. The reservoir/lake then lay derelict for many years until a sports club was formed in 1881. The lake was used for fishing, swimming and skating (in winter). Some of the site was bought by Croydon Council in 1931, who then allowed public access to the lake and surrounds. The council then purchased the rest of the site in 1936, but it was not until 1969 that the whole of the grounds were opened to the public, since when it has been managed as a public park
The main entrance is at the junction of Woodvale Avenue/Avenue Road, off Auckland Road/Lancaster Road, South Norwood. Other access points are off Auckland Road and Maberley Road.
Public Transport
Edit
Train: Nearest station is Norwood Junction Bus: 75, 157 and 312 along South Norwood High Street, 196 along South Norwood Hill, 468 to Whitehorse Lane/South Norwood Hill and 410 along Lancaster Road/Auckland Road. 197 stops at Norwood Junction.
South Norwood Lake looks an unpromising site being essentially a concrete-sided reservoir, but there is a small wooded island. Playing fields, woods and scrub (old allotments) add to the variety.
This is the main site in Croydon for Great Crested Grebe and the wooded areas hold a variety of species including the occasional Lesser Spotted Woodpecker and Lesser Whitethroat. Although by no means as regular here as at the country park, waders (Common Sandpiper and Dunlin) are occasional visitors to the lake. The site came to national attention in early 1997, when London's first Pied-billed Grebe stayed here for several months. Other recent highlights have included Red-breasted Merganser, Goosander, Little Egret, Honey Buzzard, Firecrest, Reed Warbler and Ring Ouzel.
Community content is available under
CC-BY-SA
unless otherwise noted.